Pickup & Delivery
HOW IT WORKS
Home Delivery
Pilgrim Cleaners Delivery Service offers free pick up and delivery to communities in Houston and the surrounding areas (from Sugar Land to the Woodlands and everything in-between). We will come to your neighborhood once a week to pick up and deliver your clothes, making dry cleaning simpler and more convenient than ever before. You will receive a personal Pilgrim Cleaners Valet Bag with a tag that lists your individual specifications including starch, folding or hangers, etc. The morning of your pick up place any items in your Pilgrim Cleaners Valet Bag and place it outside your home. Our pre-screened and trained driver will pick up your items and deliver them back to your home on your delivery day.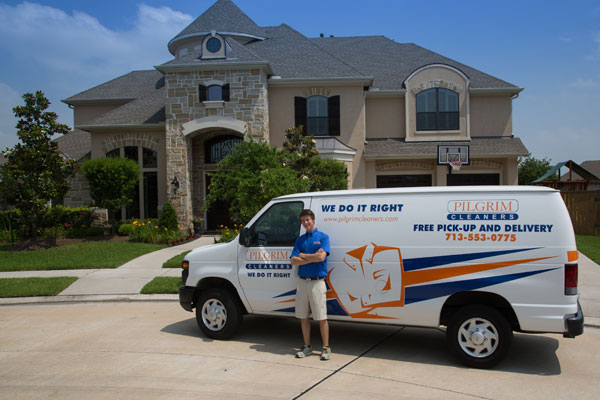 If you are like most of our customers, you may not be home during the day…and that's OK! We will leave your items at the predetermined, concealed location.
So, what are you waiting for, sign up right now by filling out this form and you can stop running around and make going to the dry cleaners as easy as stepping outside your front door.
Corporate Delivery
Pilgrim Cleaners wants to become the most popular perk for working for your company! We can save your employees time and money each week on their cleaning items. We deliver to your area each week with an approximate turnaround time of two working days. Whether you are a Fortune 500 Corporation or a small business, Pilgrim is committed to help make your employee's days run smoother.
Pilgrim Cleaners will arrive at your company at a predetermined day each week. Your company can designate a particular area for pick-up and delivery or we will come to your employee's office and pick your items up directly from them.
Place your garments in our Pilgrim Cleaners Valet bag, and have your items ready for pick up on the designated day by the predetermined time.
We will deliver your professionally cleaned garments within 2 business days.
All services will be charged to a credit or debit card designated by each employee and upon delivery a detailed, itemized listing of all services performed will be attached to your items.
Customer satisfaction is our highest priority. If you are not 100% satisfied with our service please tell us.
Companies will not be asked to assist Pilgrim Cleaners with the collection of an employees account, nor will the company be asked to intervene on our behalf.

Don't delay! CLICK HERE TO SIGN UP FOR PICKUP AND DELIVERY SERVICE